Hobie Adventure Island Mirage Trimaran Pedal Sailing Kayak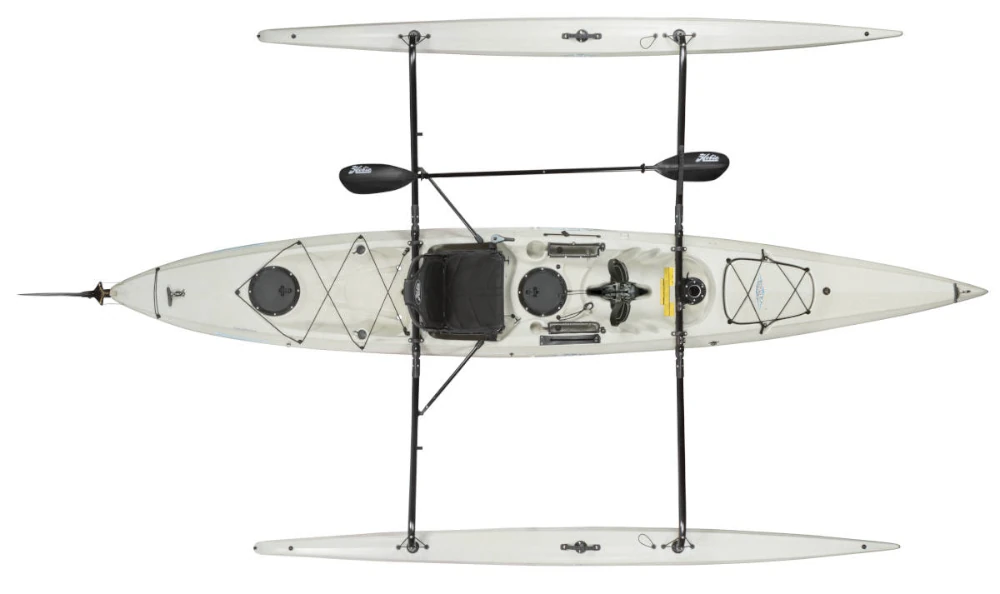 The Adventure Island is the perfect fit for those looking for a highly versatile and capable vessel that can be used in various waterways and conditions – especially in situations where speed and the ability to cover longer distances is paramount.
Whether you're just looking for something to get out on the water for thrills, ambitious expeditions, fishing endeavors or all of the above it's hard to go wrong with the Hobie Adventure Island (AI). The AI is an incredibly versatile boat that is fun and easy to use in a variety of waters and conditions – the consummate solo crew sailing kayak perfect for everything from relaxing or thrilling day trips on lakes, bays or open ocean to overnight camping trips, multi-day expeditions and a myriad of fishing pursuits.
Because the AI is also equipped with a MirageDrive pedal-powered propulsion system it can also be pedaled around with surprising efficiency, which is a nice back up in case the wind drops off. The AI is also supplied with a paddle, although you won't be needing it often. In it's full glory the AI is a trimaran sailing vessel that is surprisingly capable given it's size.
With a sail area size of around 5.4 square metres and a mast of around 4.6 metres in length, the AI is capable of generating rather respectable speeds. Thanks to the amas (otherwise known as pontoons) the AI is also incredibly stable, which is a confidence inspiring feature for novices and advanced users alike. Featuring a simple-to-operate roller-furler operation of the sail is simple enough to use without the threat of a head-concussing boom swinging precariously in strong winds.
As a sailboat it is easy enough to manage and can be transported via car-top or trailer and is quick and easy to rig. As a kayak it's fast and efficient and as an outrigger it's simply one of the best fishing platforms on offer. If you can see yourself using the AI in all of these configurations, we're confident in recommending it to you.
The AI can be stripped of its sail, amas and akas to convert it to a kayak and this is one of the reasons the AI is so versatile. If there's not enough wind to go sailing you can always use it as a kayak. It pedals well, paddles well, is fast and efficient through the water and equally at home on rivers as it is open ocean.
But wait… there's more. The AI can also be rigged as a Polynesian style outrigger. By rigging one of the amas the boat becomes an outrigger style craft that is supremely stable making it a fantastic option for fishing in scenarios where stability is valued. By adding a tramp (fitted between the akas) some 12 square foot of usable deck space is added, offering even further utility that comes in handy for all sorts of things. Ideal for touring and overnight camping trips, it's also an excellent for kayak fishing.
Hobie Adventure Island Specifications
Crew: 1
Length: 16′ 7″ / 5.05 m
Beam (Amas Folded In): 44″ / 1.12 m
Beam (Amas Out): 9′ 6″ / 2.90 m
Capacity: 400 lbs / 181.44 kg
Fitted Hull Weight: 48 kg
Fully Rigged Weight: 65 kg
Mast Length: 16′ 6″ / 5.03 m
Sail Area: 65 ft² / 6.04 m²
Hull Construction: Rotomolded Polyethylene
Hobie Adventure Island Features
MirageDrive GTKU with Kick Up Turbo Fins
Four Detatchable Akas with Carrying Bag
Kick-up Centerboard
Kick-up Island Rudder
Lowrance® Ready
Patented Roller-Furling Sail with Battens
Roller-Furling Main Sail
Two 8" Twist and Seal Hatches with Gear Bucket
Two Color-Coordinated Amas
Two Mesh-Covered Stowage Pockets
Two Molded-In Rod Holders
Two-Piece Carbon Composite Mast
Two-Piece Paddles with On-Hull Storage
Vantage CT Seating
View the official Hobie Adventure Island Support Pages