BerleyPro Kimmi Cart Kayak Trolley Folding Frame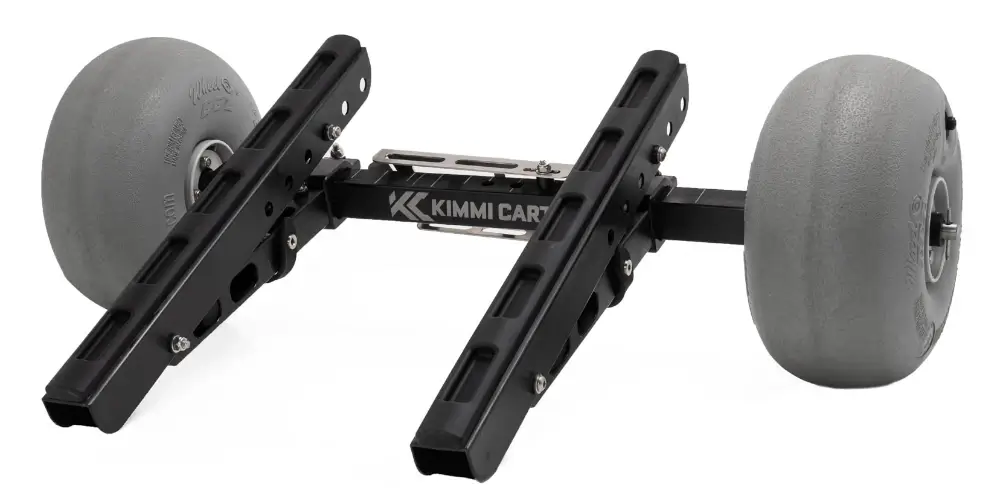 The BerleyPro Kimmi Cart Kayak Trolley Frame allows you to make use to your existing Wheeleze Trax wheels (as used on Hobie Trax 24 and Trax 2-30 Hobie wheel carts) and C-Tug cart wheels as well.
Unlike plug-in style wheel carts, this solution does not rely on scupper holes to work, which offers a couple of advantages. One being that it completely eliminates the potential for scupper hole damage caused by a poorly inserted kayak cart and most importantly, allows you to position it at the balance point underneath the hull. This can make a big difference into how much physical effort required to pull the kayak along.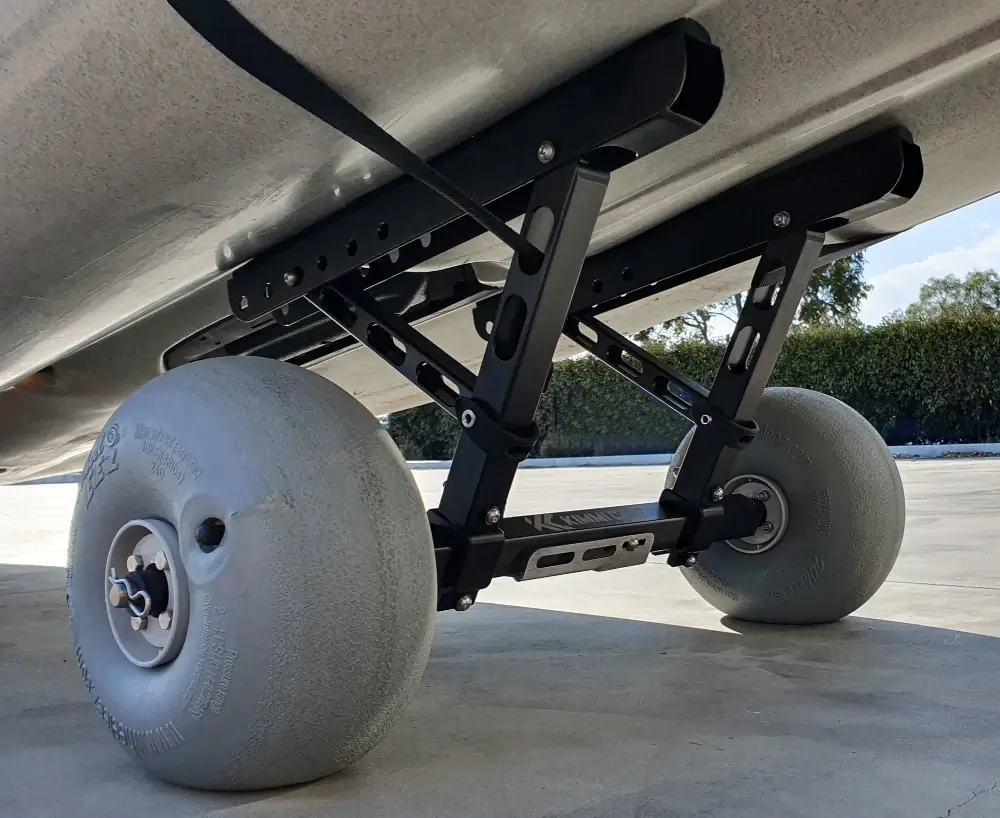 Choose a frame to suit:
Wheeleze 24cm Balloon Wheel (1/2″ axle width, Part# BP5101-01)
Wheeleze 30cm Balloon Wheel (1/2″ axle width, Part# BP5101-02)
C-Tug Wheel / Sandtrax (25mm axle width, Part# BP5101-03)
Note: a somewhat capable and clever individual could easily make this cart frame work with Hobie HD wheels, let alone various other like-styled wheels you might find lying around. Here's the product description straight from the Kiwi's mouth:
Our heavy duty aluminum cart is the ultimate solution for transporting your kayak or canoe with ease. Designed and manufactured in Australia with precision CNC machining and anodizing, our cart is built to withstand harsh outdoor environments while providing exceptional performance. With its adjustable bunks and height, our cart is compatible with a wide range of boats and can accommodate different diameter wheels.
The height adjustment feature also allows our cart to suit different hulls, minimizing the height you have to lift your heavy kayak, making it easier to load and transport. Our retractable kickstand allows you to easily lift your kayak onto the cart and then quickly retract the kickstand without having to get under your boat, ensuring that your kayak stays protected from damage. Soft silicone pads provide a secure grip and protect your boat from damage, while the marine-grade stainless steel cam buckle and strap prevent corrosion, ensuring reliability when you need it most. The collapsible design features two quickly removable stainless steel locking pins, making it easy to store and transport.
Additionally, our cart has multiple strap routing locations, ensuring that you can choose the best angle to strap your boat down securely. No more struggling with awkward, heavy loads or worrying about damaging your boat. Order our aluminum cart today and enjoy hassle-free transportation of your kayak or canoe!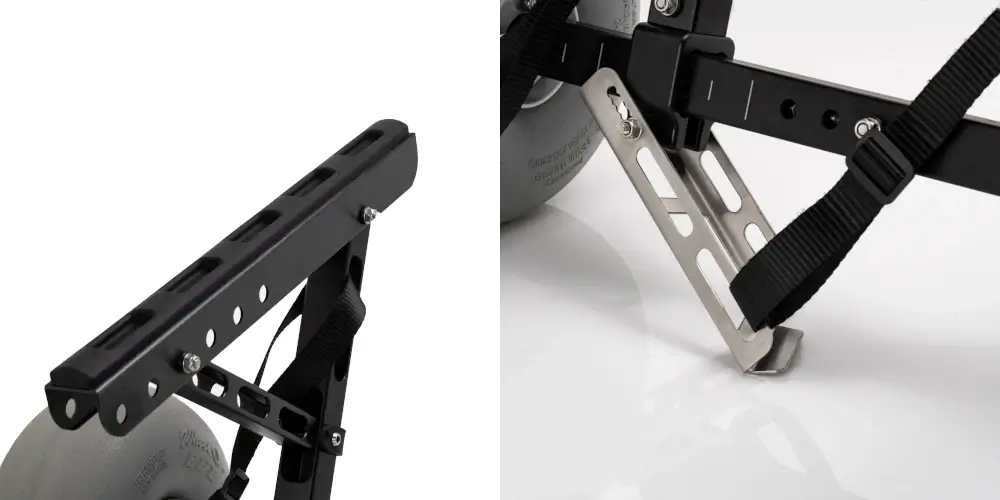 Heavy-duty aluminum cart for transporting kayaks and canoes with ease
Adjustable bunks and height to suit different boats and minimize lifting height
Retractable kickstand for easy loading and protection from damage
Soft silicone pads and marine-grade stainless steel cam buckle for secure grip and corrosion prevention
Collapsible design with two removable locking pins for easy storage and transport
Multiple strap routing locations for secure and customized strapping angles
Weight 3.5kg
Made in Australia