Hobie Compass Mirage Pedal Powered Fishing Kayak
The Hobie Compass is our best selling fishing kayak, a favourite among our staff and customers a like and easily one of the most popular fishing kayaks in Australia. This model is a great all-rounder, equally capable on inland waterways as it is in our local bays. There's practically no where you can't take it and no where fish can hide.
Offering comfort (and featuring a new seat design), light weight, and excellent stability, the Compass is highly efficient and handles itself beautifully in flat water and or choppy conditions. There really is a lot to love about the Hobie Compass. Ask anyone who owns one!

The 2022 Model Hobie Compass differs from the 2021 model with a newly designed (lighter weight) seat and the rear rod holders are inserts rather than being molded into the hull. Currently we still have some 2021 models available that are significantly less expensive.
Given it's form, size and performance, the Hobie Mirage Compass is a surprisingly light and stable kayak, making it a great all-round fishing platform that has swiftly become our best selling Hobie fishing kayak. It offers the best 'per-kilogram' overall performance in the range and is perfectly suited for kayak fishing WesternPort and Port Phillip Bays.
It is highly capable in any inland waterway (rivers, lakes and bays) and some of our more ambitious customers have been known to pedal them off shore in the pursuit of larger prey. Whether you want to slay the squid in close or chase the snapper out a little wider, the Compass will get you there and back with ease.
The Compass offers excellent stability for it's dimensions, wide enough to offer good flat water stability and a smooth chine shape provides good performance in choppier conditions as well. This multi-tasking hull shape makes it a good fit for our local bays. Featuring an inverted rudder (similar to the Pro Angler series) offers a sharp turning radius, making for high manoeuvrability.
The refined bow shape (inspired by the Revolution series) affords the ability to reach speeds not normally achieved in kayaks of it's dimensions. Angling-ready features include molded-in rod holders, H-Track accessory mounts and a Lowrance-Ready transducer cavity for easy and effective fish finder installations. Fitted with a breathable mesh seat at a fixed height, the Hobie Compass offers all-day comfort and an optimal pedal-stroke.
Specifications
Crew: 1
Length: 3.66 m – 12'
Width: 0.86 m – 34"
Capacity: 181 kg – 400 lbs
Fitted Hull Weight: 31 kg – 68 lbs
Fully Rigged Weight: 39 kg – 87 lbs
Hull Construction: Rotomolded Polyethylene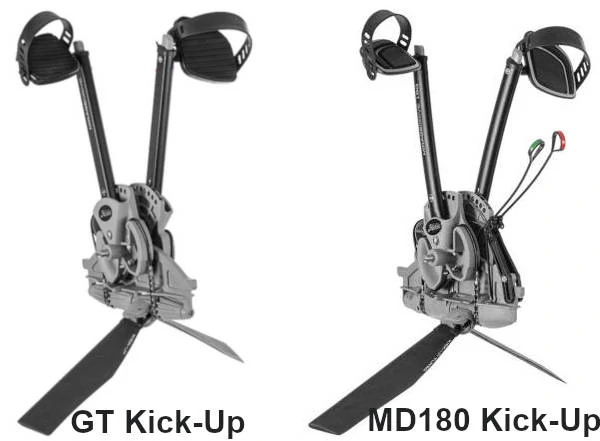 SLH offers customers a choice on which MirageDrive they would prefer to go with their Compass. Kayakers who place a higher priority on the ability to pedal in reverse will opt for an MD180 KU MirageDrive, whereas those who prefer simplicity and or like the idea of saving money can opt for the standard GT KU drive. *Camo models are supplied with MD180 Turbo fins.
Features
Choose your own MirageDrive: MD180KU or GT Kick-Up
2 Piece Paddle
Deluxe Seat
Easy Steering Control
Spring Loaded Kick-Up Rudder
Tracking Skeg
Rear Storage Well with Bungee Cord
Cargo Storage Net at Bow
8″ Twist & Seal Hatch
Drink Holder
Dual H-Track Accessory Rails
PowerPole / Bixpy Ready
Lowrance ready Transducer Scupper
Also see: Lovig Universal Kayak Covers (the medium cover is a perfect fit on the Compass).
Note
Click & Collect Pick Up Option available for Mornington Peninsula and Victorian residents
Delivery options available for Victoria, Tasmania, ACT and Southern NSW