Hobie Passport 10.5 – Light, stable, comfortable and affordable
The Hobie Mirage Passport 10.5 is a minimalist pedal kayak built with a Thermo-formed construction that is significantly lighter than most other models in the range. It's also the least expensive Hobie kayak available today, which also makes it one of the most popular models stocked by SLH.
The Passport 10.5 lends itself as a viable option for anyone looking for ease of use, not just in terms of on-water performance and off-water handling, but also in simplicity.
It won't break your back, or your bank account and it will handle itself admirably, no matter which Hobie kayak you compare it with.
The Passport series feature a simplified kick-up rudder and a replaceable rudder skeg, bow bungees for storage utility up front and rear, with a forward accessory mount for rigging the Hobie Bimini or a Sail Kit. Although we wouldn't say it's necessary, there is an steering upgrade option in the form of the Passport XL Rudder.
The Passport 10.5 is also outfitted for kayak fishing, featuring two molded-in rod holders, two H-Track accessory mounts that can be utilized by adding extra rod holders, camera or fish finder mounts.
Providing you're not looking to go on extended kayak camping trips or pack half a tackle shop worth of gear, the Passport 10.5 offers ample cargo space for stowage of your gear. Just in case you're not quite sure if this model has the storage utility you need, we suggest taking a closer look at the Passport 12
Compact and stable, this manoeuvrable and easily manageable kayak can be car-topped with ease. It's also stackable, allowing for multiple Passports being stacked on top of each other for storage and transport.
The Passport 10.5 model is the smallest kayak available from Hobie currently and as such is also one of the lightest, making it relatively easy to handle off the water. It borrows design elements from the Sport model (which the Passport 10.5 has replaced) as well as the earlier Outback models and is equally suited to everything those models were good at.
Passport kayaks are ideal for use in protected waters; creeks, rivers, lakes, dams, bays and estuary systems.
SLH recommends the Passport 10.5 for smaller and lighter users. If you weigh 100kg or more (and or are planning to carry a fair bit of gear), you are probably better served by looking into the Passport 12′ model.
Hobie Passport 10.5 Specifications
Crew: 1
Length: 10.5′ / 3.2 m
Width: 34″ / 86.36 cm
Capacity: 325 lbs / 147.42 kg
Fitted Hull Weight: 65 lbs / 29.48 kg
Fully Rigged Weight: 75 lbs / 34.02 kg
Hull Construction: Thermoformed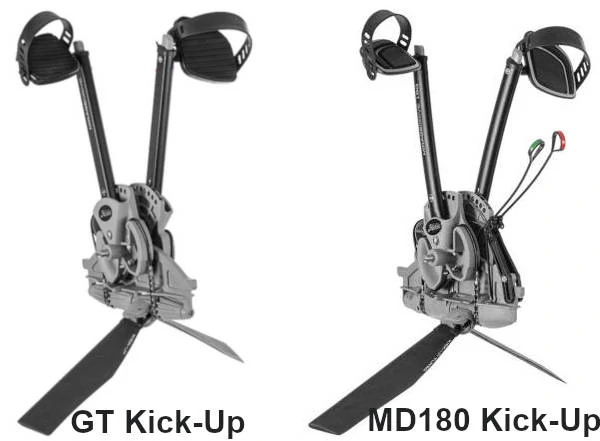 SLH offers Passport customers a choice on which MirageDrive they would prefer. Kayakers who place a higher priority on the ability to pedal in reverse can upgrade to an MD180 KU MirageDrive, whereas those who prefer simplicity and or like the idea of saving money can opt for the standard GT KU drive.
Hobie Passport 10.5 Features
Choose your own MirageDrive: MD180KU or GT Kick-Up
Suspended aluminium frame mesh seat
Steering system with stowable rudder
2 Piece aluminium paddle
Dual flush mounted rod holders
8" Twist & Seal Hatch
Dual gear mount tracks
Vertical accessory tube (compatible with sail, bimini or RAM mount)
Bow and stern cargo storage wells
Replaceable keel guard
Cargo scuppers compatible with Hobie wheel carts & Livewell
Stackable hull design
Note:
Click & Collect Pick Up Option available for Mornington Peninsula and Victorian residents
Delivery options available for Victoria, Tasmania, ACT and Southern NSW
Further reading: