Hobie Oasis Mirage Tandem Pedal Kayak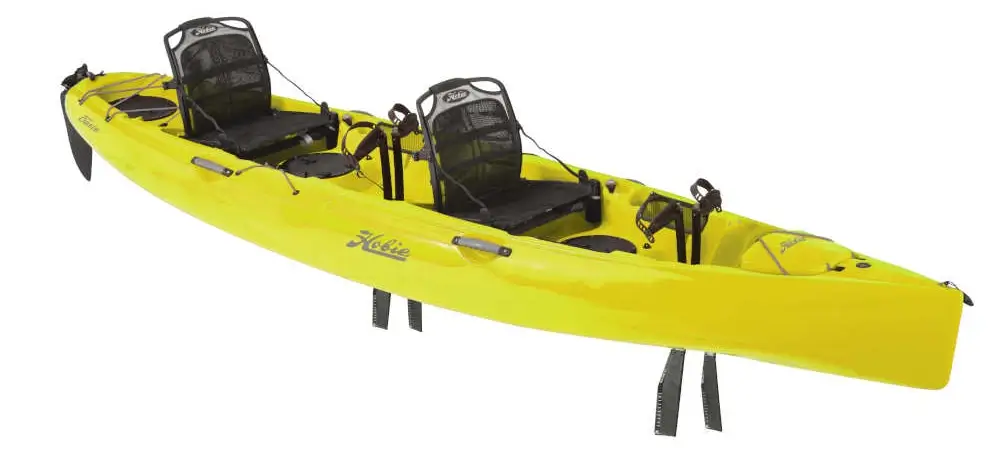 The Hobie Oasis is a tandem pedal powered kayak that is speedy, stable and spacious, well suited to users seeking higher performance and range. With a sleek hull shape that glides through water effortlessly, the Oasis performs superbly in a variety of water conditions and locations. From skinny creeks to open ocean and everything in between, the Oasis is a great choice for friends and couples looking for fun and adventure
Pedal-powered by 2 x Kick-Up MD180 MirageDrives, the Hobie Oasis is super easy to use. is highly suitable for touring, exploring, fishing and camping. Equipped with three enclosed stowage areas and one large on-deck cargo area you won't have trouble storing all your gear.
The Hobie Mirage Oasis features dual steering controls and highly adjustable Vantage CT seats. It also comes with 2 paddles… although we reckon you'll love the pedals so much that you'll barely use the paddles!
The Hobie Oasis is most often compared to the Compass Duo so it's not uncommon for customers to get hung up on which one to choose. Both models perform really well, although we would generally recommend the Duo for kayak fishing enthusiasts, whereas we might suggest to look closer at the Oasis if you have camping adventures in mind. With more internal storage hatches, the Oasis offers more stowage options.
With a sleeker and marginally narrower shape, the Oasis is basically the two-person version of the popular Revolution series. As such, the Oasis probably has the edge in terms of speed and efficiency. On the other hand the Compass Duo has a slight edge in primary stability (although this isn't to say the Oasis isn't reliably stable.
The Duo also has more accessory mounting utility and also has a fish finder transducer scupper, whereas the Oasis doesn't. Where there's a will there's a way, however, and if you prefer the look of the Oasis SLH can help install fishing accessories and or recommend various ways to fit it out.
Hobie Oasis Specifications
Crew: 1-2
Length: 14′ 6″ / 4.42 m
Width: 33″ / .84 m
Capacity: 249 kg
Fitted Hull Weight: 42 kg
Fully Rigged Weight: 57 kg
Hull Construction: Rotomolded Polyethylene
Hobie Oasis Features
2 x MD180 Kick-Up MirageDrives (GT Kick-Up MirageDrive Option Available)
2 x 4 way Adjustable Vantage CT Seats
Dual Steering
Two Molded-In Rod Holders
Sail Mount
Three 8" Twist and Seal Hatches
Twist and Stow Rudder
Four Mesh-Covered Stowage Pockets
Two-Piece Paddles with On-Hull Storage
Note
Click & Collect Pick Up Option available for Mornington Peninsula and Victorian residents
Delivery options available for Victoria, Tasmania, ACT and Southern NSW